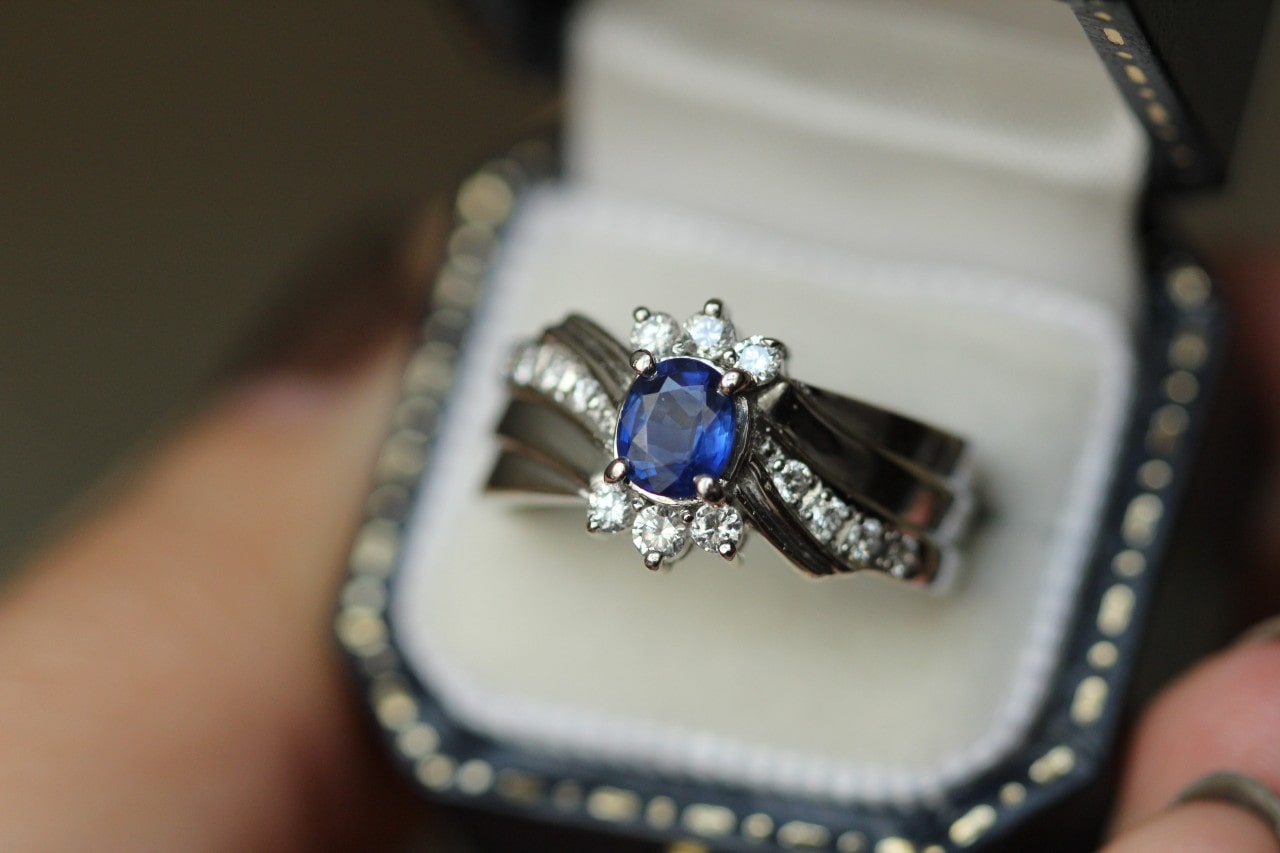 September's birthstone, the captivating sapphire, is a gem that has fascinated and enchanted throughout history. Known for their deep blue hue, sapphires symbolise wisdom, loyalty, and nobility. At Prestige Jewellers, we are proud to present our favourite sapphire jewellery, featuring exquisite designs that showcase the timeless beauty of this remarkable gemstone. Whether you're celebrating a September birthday or simply captivated by the allure of sapphires, our top picks at Prestige Jewellers are sure to delight and make a lasting impression.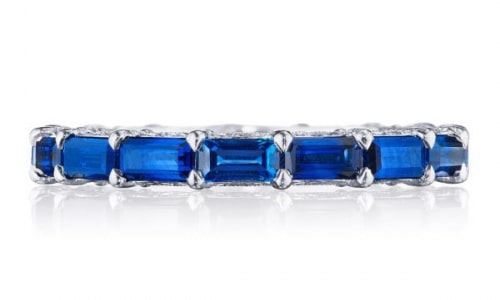 Add Flair to Your Bridal Stack
Elevate your bridal stack to new heights of polish and personalization with this exquisite sapphire wedding band from Tacori's RoyalT collection. This stunning band not only adds a chic pop of colour but also infuses your stack with a touch of sophistication and uniqueness. Crafted with meticulous attention to detail, this band features a row of vibrant sapphires that will beautifully contrast your existing engagement ring and band. By incorporating this Tacori piece into your bridal stack, you create a one-of-a-kind combination that reflects your individual style and story.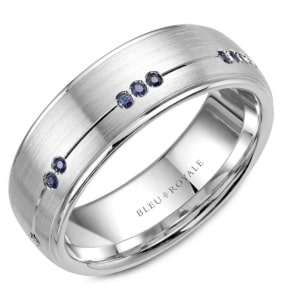 Men Deserve Sapphires, Too
Make a stylish statement with this men's sapphire wedding band from Bleu Royale. This exceptional ring is designed to showcase a bit of the wearer's uniqueness and personal aesthetic. With its sleek and contemporary design, the sapphire accents provide an eye-catching detail that sets it apart from the crowd. This piece showcases a perfect balance between traditional and modern aesthetics. Crafted with utmost precision and quality, this men's wedding band from Bleu Royale offers durability and timeless appeal.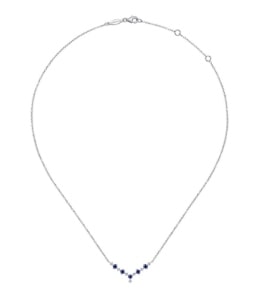 Dazzle with Delicacy
Add a touch of understated elegance to your everyday style with this minimalist sapphire necklace from Gabriel & Co. This delicate piece is a perfect choice for those seeking a dainty pop of colour to enhance their look. Featuring striking sapphires paired with glittering diamonds, the necklace hangs gracefully on a fine chain, creating a subtle and refined statement. Whether worn alone or layered with other necklaces, this piece effortlessly adds an air of sophistication to any outfit. It is an ideal accessory for those who appreciate simplicity and need a versatile piece that transitions seamlessly from day to night.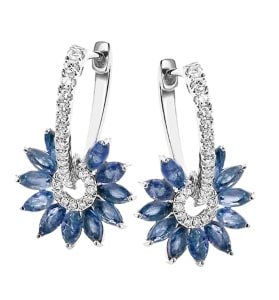 Stand Out with Feminine Flowers
Captivate wherever you go with these alluring floral sapphire hoop earrings from Zeghani's Precious Stone collection. These enchanting earrings are designed to capture attention and highlight your best features. Adorned with delicate sapphire gemstones arranged in a floral-inspired pattern, these hoops exude a sense of femininity and exotic flare. The vibrant sapphires add a pop of colour, enhancing your overall look with their captivating sparkle. Whether worn for a special occasion or to elevate your everyday style, these earrings are sure to make a lasting impression.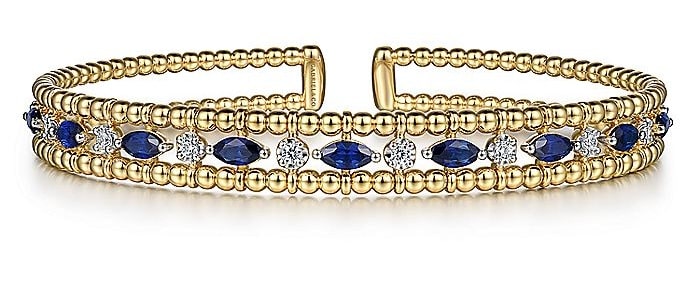 Be Bold with Bracelets
Indulge in the trendiness of bangles while exuding effortless elegance with this sapphire and diamond cuff from Gabriel & Co. This exquisite piece combines the timeless beauty of sapphires and diamonds, resulting in a cuff that is both fashionable and refined. The sapphires breathe life to the design, while the diamonds add a captivating sparkle. The warm yellow gold and bubble-like texture are also exceptionally mesmerising, ensuring the wearer will turn heads wherever they go. Whether worn alone or stacked with other bracelets, this sapphire and diamond cuff is sure to catch the eye.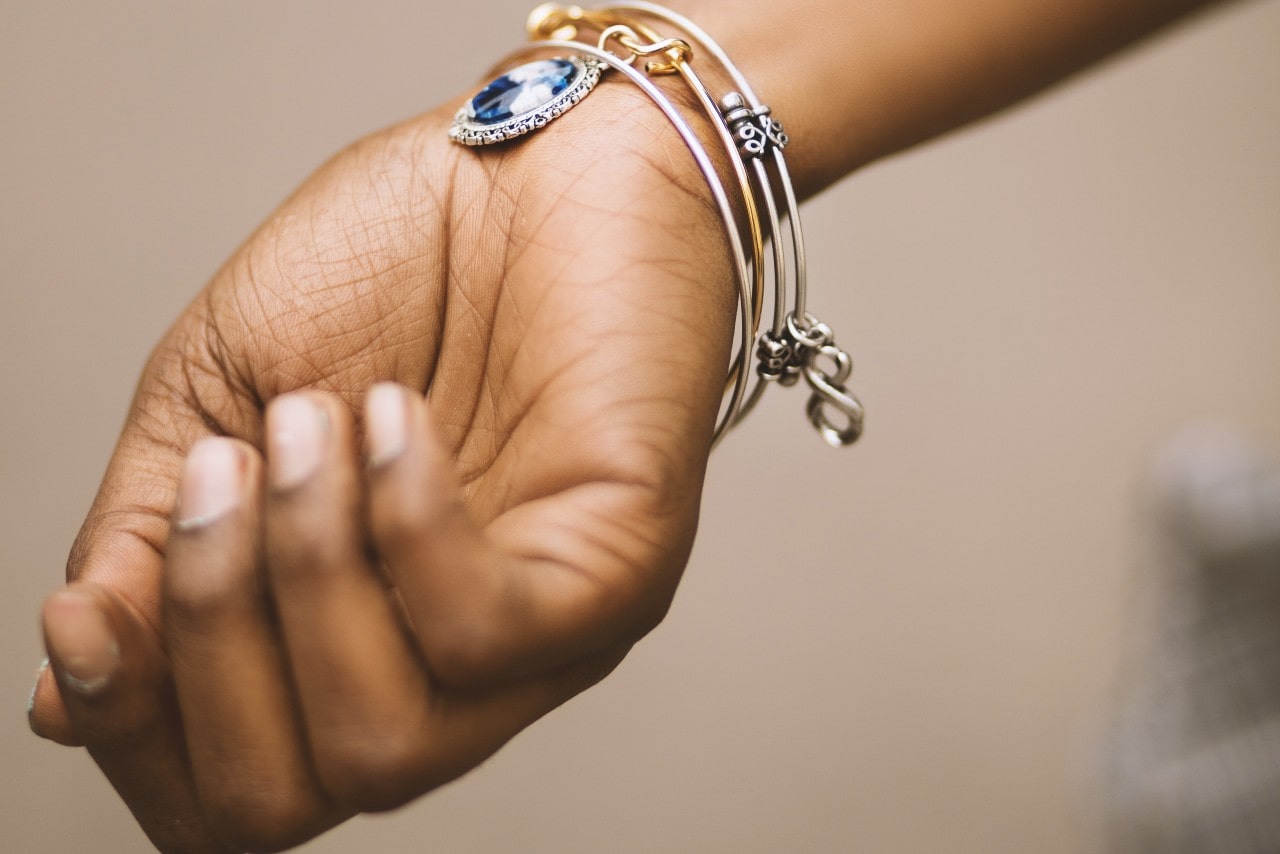 Shop Sapphire Jewellery at Prestige Jewellers
When it comes to shopping for exquisite sapphire jewellery in Alberta, Prestige Jewellers is your premier destination. From our Edmonton and Fort McMurray jewellery stores we offer a stunning collection of sapphire jewellery that will captivate your senses. Our knowledgeable and friendly staff members provide a personalized shopping experience, assisting you in finding the ideal sapphire jewellery that suits your or your loved one's style and preferences. At Prestige Jewellers, we pride ourselves on our commitment to quality and craftsmanship, ensuring that each piece of sapphire jewellery is a true work of art. Request an appointment at one of our Edmonton or Fort McMurray jewellery stores today and discover the allure of sapphire jewellery that will be treasured for a lifetime.