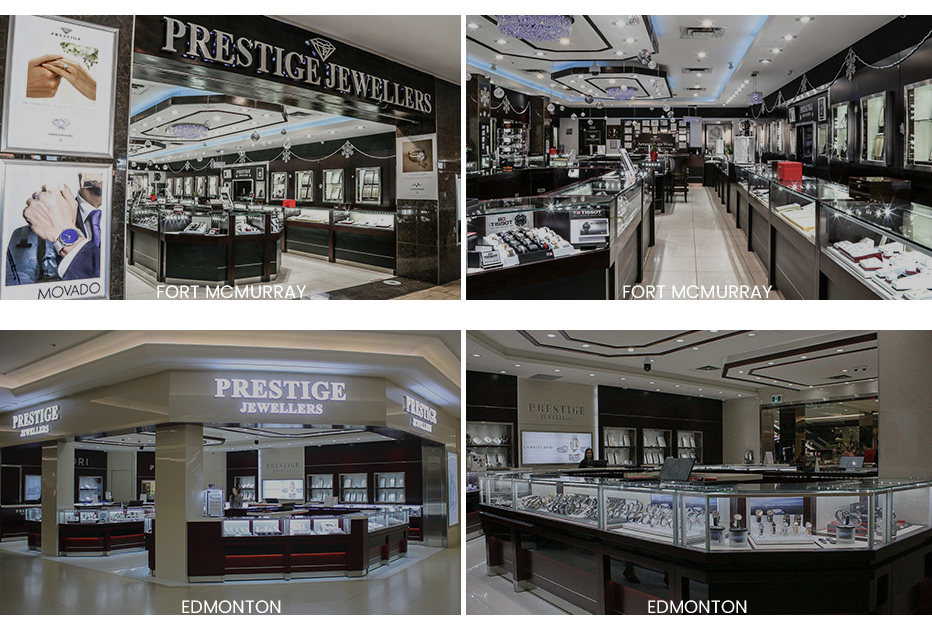 Prestige Jewellers
9713 Hardin Street, Unit# 1124
Fort McMurray, Alberta T9H 1L2

Telephone number:
780-790-9750
Prestige Jewellers hours:
Mon. - Fri. 11a.m. - 7p.m.
Sat. - Sun. 11a.m. - 5p.m.

Prestige Jewellers
8882 170 St NW #1007,
Edmonton, Alberta T5T 3J7

Telephone number:
780-489-1985
Prestige Jewellers Hours
Mon. - Thur. 11a.m. - 7p.m.
Fri. - Sat. 10a.m. - 8p.m.
Sunday 11a.m. - 6p.m.
About Us
Since 1998
For over 20 years, Prestige Jewellers has been committed to providing you with honest and reliable service along with the most diverse selection of jewellery in the industry today. We are locally owned, with 2 Alberta locations: Peter Pond Mall (Fort McMurray) and West Edmonton Mall (Edmonton).
Our dedication to you is to provide the best service possible. By listening to our client's thoughts, by helping guide them with design, diamond education and personal experiences to ensure the client's needs are fully fulfilled.
Jewellery is very personal and we are proud to offer one of the largest selections of jewellery from top designer brands along with in house designing to suit everyone's dreams. If custom designed jewellery is what you're after, we have a team of designers that can create that special piece.
With years of expertise, we will answer your jewellery questions and explain everything each step of the way to help guide you in your purchase, leaving you feeling confident with the honest information provided.
If you allow us the opportunities to not only show you beautiful products but also to show you exemplary service, you will not be disappointed. This is our Prestige Promise.
FORT MCMURRAY

EDMONTON

We Love Our Community
Thank you for being a part of ours!